If you need to edit something on your user roles website and these things you can learn a little more about User role editor pro, through this tool you can edit the user roles in a fast and secure way in all senses.
What is User role editor pro
User role editor pro is an excellent complement to help you change, edit and distribute everything that has to do with users' capabilities on your website, or if you want to change something related to permissions and rights, if you want to do some of this, User role editor pro is what you need.
The WordPress User Role Editor add-on will help you. Edit any existing role, create a new one, complete the selected role with the capabilities you need. Assign new roles or created capabilities directly to the user.
Features of User role editor pro
– Blocking Selected Items from the Administration Menu by Role Base
– Show the front-end menu item for all, registered users, registered users with selected roles, not just registered visitors
– Lock the editing of the selected navigation menus for the selected role
– Block the widgets and sidebars selected in the "Appearance" menu in each role base
– Block selected meta boxes (board, publications, pages, custom publication types) for roles.
– Block access to the other roles for the selected role
– By plugin access for roles and users with "active plugins" capability
– Export and import user roles
How it works User role editor pro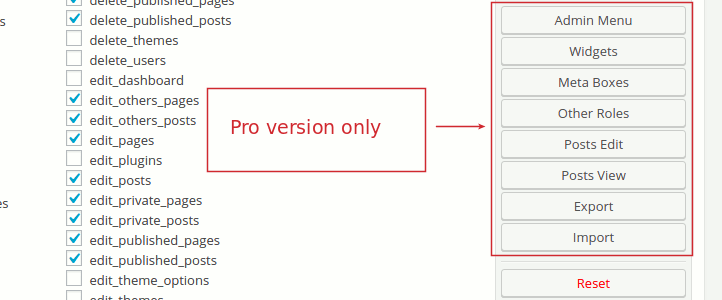 – Manage roles and users for all sites in Network Admin from one point: edit, replicate roles to all subsites, assign roles and capabilities to users, replicate existing user along with their permissions to all sites in the network.
– Restrict individual site administrators' access to selected user capabilities and add/delete roles operations within the User Role Editor
– Superadmin can configure individual lists of topics available for activation for selected individual site administrators
– It forces all types of custom posts to use their own set of custom capabilities instead of using one created in the 'post' base, for example, 'edit videos' instead of 'edit posts'.
– Activate the 'Create' capability for custom publications/pages/types of publications. For example, without the 'create post' capability, the user will only be able to edit existing posts.
– Restricting user access to edit publications and pages selected only by Publication/Page ID or/and Category/Taxonomy ID, or/and Author User ID
– Restricting user access to Gravity Forms by form identification list
– Restricting access to the content view for selected roles and with short codes
Advantages of User role editor pro
Manage which widgets are displayed for which role
The permissions viewer for the administration pages shows at the bottom of each administration page (wp-admin) the list of user capabilities marked by this page and the add-ons connected to it
Free advertising
Guaranteed premium support.
30-day money back guarantee A 30-day money back guarantee is provided for your purchase. Buy the Pro version, try it. You have 30 days to make sure, it's a bargain. If for any reason you are not satisfied with this purchase, send us a money back request and we will refund your money without any further questions.
Download User role editor pro
When you download and buy User role editor pro you will have a lot of possibilities to edit freely and without any problem so don't stop downloading User role editor pro.