Ultimate Addons is one of the best plugins for Visual Composer also known as WPBakery, which adds to your builder the best tools for design in one place and with this single plugin.
If you want to complement the design of your web page and add tools to your Visual Composer builder, then you must download one of the best-selling plugins for WPBakery, it is Ultimate Addons for Visual Composer, which will make your page have the most original designs.
WPBakery formerly known as Visual Composer is one of the most used builders in WordPress to design super dynamic and attractive pages for visitors, complement your use with this plugin.
How Ultimate Addons for Visual Composer works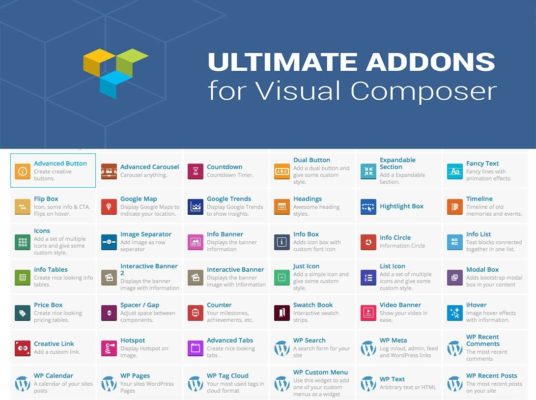 Ultimate Addons has an extensive list of features and elements that with each update is expanding more and more, and not for nothing has more than 5,000 active clients.
Most of its addons are aimed at complementing and designing your website in every detail, from a large repertoire of fonts to an extensive list of backgrounds.
With the number of widgets and addons you can use this plugin in any WordPress regardless of the theme you deal with and the mode, it helps you enrich a page dedicated to a single product or show your blogs in a more attractive and dynamic way to your visitors.
Having this plugin in your repertoire, designing a landing page or a login page will be very easy and you will not need other plugins to do it.
It has an extremely easy to use control panel with a clean code that is intuitive and Very friendly for developers.
Features of Ultimate Addons for Visual Composer
Its features are many as it covers a wide field of work, including interactive banners, fonts, gradient backgrounds, animation block, flip box, creative links, and much more.
The option of Flip Box combines the power of "Info Box" & "Call to Action" block altogether. On the front, it would look like a normal Info Box but as visitor hovers on the block, it flips with a cool CSS3 effect and shows a Call to Action section, provoking him to take a call.
You can use icons to integrate a simple font or image on your page and use it as you want. Or you can use WPBakery Page Builder grids and display a list of logos of your clients, partners, sponsors, etc.
Many times, image banners come in handy as they are a very convenient and obvious way to deliver your message precisely. This element will display those image blocks in a nicer and interactive way for you and your customers.
You have an option for extended Google Maps the Extended Google Maps that offers you this plugin, uses the latest APIs, and allows you to do more with it. Upload marker images, write custom HTML in the map info box, and control everything that goes with map.
There are many more elements that you will have to discover when exploring this plugin since it is very complete and varied.
Benefits of Ultimate Addons for Visual Composer
The main advantage is that you complement your WPBakery in an extraordinary way and it will make your designs unique and your page look very professional.
You can save a lot of time in the design thanks to its control panel that is easy to use.
Save on space and money that you might spend on other plugins since this one is very complete and brings elements that sometimes come in separate plugins, you will have them all at hand with your installation.
Download Ultimate Addons for Visual Composer
You can download it directly from our website where you will receive the file immediately and, in a few minutes, you can be enjoying Ultimate Addons.
If you want to design your web like an expert and you have as your main builder WPBakery this is the perfect plugin for your website.