Quform is one of the most popular plugins for building multiple forms thanks to its quick and easy builder with Drag and Drop system, you don't need to know or touch any code and is perfect for beginners or professionals.
If you have a WordPress site and want to incorporate forms of any kind and at the same time want them to be an easy to operate loyalty tool that saves you time and money, then you should try Quform.
How Quform works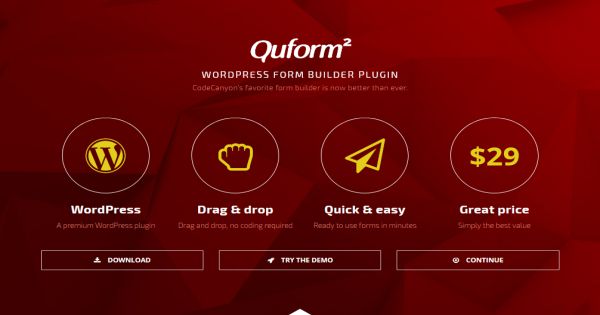 This plugin is focused on improving the user and designer experience, with a simple Drag and Drop functionality you can create forms of your own style that fit your brand and business.
It has a wide range of elements and options that will allow you to always have unique designs in your style, no matter if you are an expert or a beginner with programming and design.
Thanks to its editor you can have a preview while you are building your form, this way you can change elements and options that you don't like while doing it without having to wait to see it finished and publish it.
It is a plugin that will make the design to be seen in any device regardless of the screen resolution from where you are watching, either mobile, tablet or laptop is 100% responsive.
Quform Features
This plugin has 19 element types, the possibility of make complex form Layout, 9 included validators, 6 included filters, 11 styles of buttons, included button animations 3 styles of labels and tons of options for your design.
In addition to the design also has tools to improve the functionality of your page, implement a labeling system for form entries, view submitted form entries in the WordPress admin panel.
You can allow unlimited emails to be sent from a single submission, set conditional logic and add attachments on notifications.
You can use one pre-made themes including in the plugin or use other people's theme designs and change details that you want, you have the total control and have plenty of layouts options.
You can modify elements sizes, and form colors that suit your aesthetic, add custom device targeted CSS, custom classes to elements, and more.
Other features
Create a form without knowing any HTML or PHP
Fully translatable
View submitted form entries inside the WordPress admin
Send submitted form data via email
Conditional logic to show/hide fields
Dynamically set form values from the URL
File uploads, sent as attachments or saved to the server
File upload progress
Conditionally set recipients based on form values
Save form data to a custom database table
6 optional filters to strip unwanted submitted data
15 optional validators to require specific data from the user
Import/export forms across websites
Prevent spam with 3 CAPTCHA options, honeypot, image and reCAPTCHA
Advantages of Quform
With the installation of Quform you will be able to save a lot of time when designing your forms since you don't need to know about codes and you have an advantage over the design because of its Drag and Drop functionality.
It is a plugin that gives great flexibility to your WordPress page due to its quick editing and the total control that it allows you to have over the details of your page, so it is indispensable if you want to have a modern and attractive page.
Besides helping you with the build of your forms it also gives you options that go beyond that like the ease of copying the settings or importing and exporting the files quickly and easily.
Download Quform
Quform is one of the friendliest and fastest plugins for the construction of your forms, if you want to download it you just have to enter our page and download the file, in a few minutes you will have it installed.
If you want your page to have the best designs with easy to use tools then don't hesitate to download Quform.