The design and presentation on any website are extremely important so that people of all kinds feel identified and above all attracted to your website in every way, so that this happens I present Wptouch Pro Mobile Suite for WordPress a wordpress add-on dedicated to help you with everything you need correctly.
How Wptouch Pro Mobile Suite for WordPress works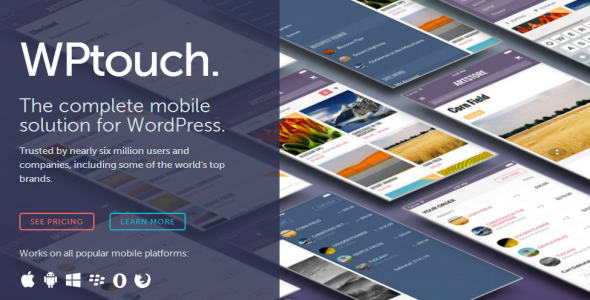 – Each license includes a full year of updates and professional support.
– How to get started
– Number
– Choose your products
– Select the website theme, extensions and complementary services you need.
– Select # of sites
– Choose the number of sites you want to use WPtouch on; each requires a license.
– Buy, download and install
– Complete your purchase, download your files and install WPtouch on your site.
Benefits of Wptouch Pro Mobile Suite for WordPress
– Summit is our most flexible and modern theme, with rich graphics and a clean, angular design.
– Clean, modern and functional design. Ideal for all types of WordPress sites.
– Made for page-based websites and small businesses. Easy to customize and – configure.
– Designed to write long and display content beautifully.
– Provides clicks to your bricks, with business ready features that help you connect with customers.
– An updated and modern version of WPtouch's original iconic theme.
– A sleek new WooCommerce mobile theme based on the power of WPtouch Pro.
– Extensions
Wptouch Pro Mobile Suite for WordPress features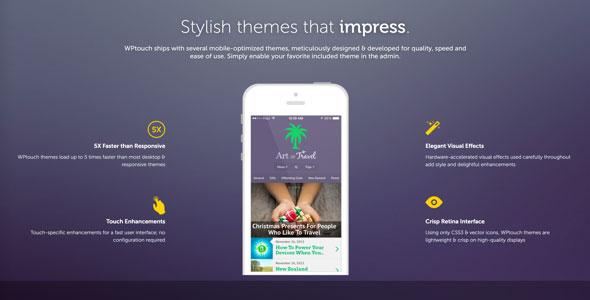 – Basic advertising extension that allows you to easily display a Google Adsense ad or your own custom script.
– Adds enhanced settings for using jQuery on mobile devices and offers the ability to load the latest version of jQuery directly from CDN.
– Display related posts by taxonomy (tags, categories, custom taxonomies) below your posts to encourage readers to stay on your mobile site.
– Enables advanced web font support for the full range of Google fonts and your own Typekit and Fontdeck sets.
– Add different content (if desired) publication by publication and page by page
– Maximize revenue with multiple ad units per page and built-in A/B ad unit testing.
– Enhance your WPtouch Pro installation with page caching, responsive images, mini-rolling, CDN support, and page speed improvements.
– Support for Google Accelerated Mobile Pages natively integrated with WPtouch Creates a branded, ultra-fast AMP experience for your mobile site visitors
– Quickly and easily create WPtouch Pro sub-themes, select override templates, and make code changes directly from the WPtouch Pro administrator.
– Add the ability for Android and iOS visitors to save your website as an application on the device's home screen, loading without the browser.
– Licensing add-ons
– Adds true multi-site support for WPtouch, including network activation support.
– Adds code, documents and help and support for custom themes to your license.
– Select the number of sites you want to use WPtouch Pro for.
– The cost per site decreases as you add more. Product support and updates will be provided for each theme and extension you own to each activated site for 1 full year.
Download Wptouch Pro Mobile Suite for WordPress
Wptouch Pro Mobile Suite for WordPress is the best complement for complete designs for your website every time you are going to make a change, for this and many more reasons you should download Wptouch Pro Mobile Suite for WordPress.