Every time you enter or think about your website you have to think of something unique and simple that will attract the attention of the people who will enter your site, so, if you want to be part of the people who have the best websites and above all quite unique, you must download Visual composer by WPBakery.
What is Visual composer by WPBakery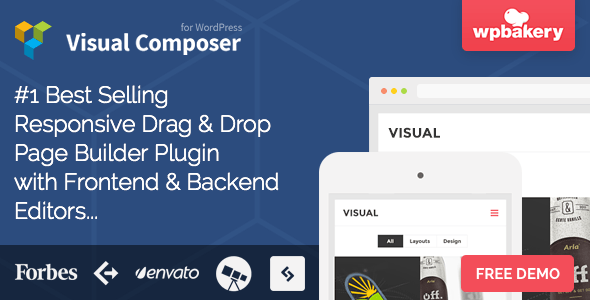 Visual composer by WPBakery is a wordpress plugin that facilitates the creation of any web page, especially with the design, making it easy to capture what you imagine and what you want in an easy and creative way on the web.
Create a responsive website and manage your content easily with the intuitive WordPress Front End editor. No programming skills required – create stunning, beautiful pages with the award-winning drag and drop generator.
Visual composer by WPBakery features
– Object-oriented code
– Multilingual ready
– Adaptable to any theme
– Translate, WPML compatibility
– Latest SEO support
– Image filters
– Toolkit: Custom Types Ready
– WordPress User Access Support
– Support for custom publication types
– Online knowledge base
– More than 80 predefined designs and templates
– Full width row
– Parallax effect
– Free Lifetime Updates
– Exclusive accessories
– Short code Mapper
– Support for Woo Commerce
– Preset elements
– RTL Support
– Visual Composer Website Builder vs WPBakery Page Builder
Advantages of Visual composer by WPBakery
 
– Drag-and-drop editor
– Frontend editor
– Tree View Mode
– Backend Editor
– Mobile Edition
– Online text editor
– Instantaneous saving
– Header Editor
– Footer Editor
– Sidebar Editor
– Pop-up generator
– Page layouts
– Global header and footer
– Dynamic content
– Maintenance mode
– Archive page editor (archive, category, tags, authors, search)
– Works with any WordPress theme.
– Custom message type support
– Multi-site support
– Export / Import of templates
– Design options
– Copy paste
– Clone element
– Custom item name
– Grid constructor
– Hide element
– Keyboard shortcuts
– Recent colors
– Undo redo
– Blank Page Assistant
– Custom CSS
– Custom JavaScript
– Replace element
– Role Manager
– Icon libraries
– Google Sources
– Filters similar to Instagram
How Visual composer by WPBakery works
Every website design should be unique. With WPBakery Page Builder, you can work with any WordPress theme of your choice.
Visual composer by WPBakery is made with the intention of helping you through the right elements and tools ready for you to use on your website, all so that in a matter of a short time you can create your website.
Use the built-in mask generator to adjust the design options and element layout of WPBakery Page Builder, to make a perfect combination with your brand identity.
Access premium class templates through the Online Template Library and create your pages in seconds. Download any template you want without restrictions. The Template Library is constantly updated with new templates.
Download Visual composer by WPBakery
To download Visual composer by WPBakery you can easily go to our website and run your own website thanks to the tools and facilities provided by this wordpress plugin.