WPBakery Page Builder Addons Bundle is a plugin that complements one of the most popular WordPress builders, WPBakery, with various add-ons. This plugin will give you a wide library of possibilities for a complete design of your page.
WPBakery Page Builder is one of the most used WordPress builders because of the ease it presents when it comes to web design, it has many tools that make it easy to enrich the content of your page and make it more attractive.
If you already have this plugin installed then complement it with the other tools offered by WPBakery Page Builder Addons Bundle with which you can control any design detail of your website.
How WPBakery Page Builder Addons Bundle works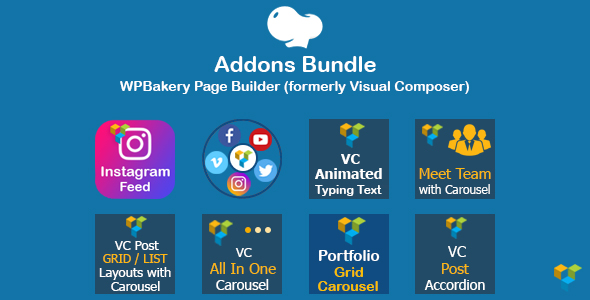 WPBakery Page Builder has been chosen by many as the main builder of their web pages and one of the reasons is because many developers have dedicated themselves to creating tools and addons that complement it.
What brings us WPBakery Page Builder Addons Bundle is a plugin where we will find the most important and useful tools for this great builder.
This way we can have everything we need for the design in one place, without having to install several plugins.
With this plugin you will find what is most used and with what you can have more freedom of creation to have an original page.
Features of WPBakery Page Builder Addons Bundle
The best addons that WPBakery Page Builder can have are synthesized in this plugin and when you download them you will always have them at hand to start editing and applying immediately.
Post Grid/List Layout with Carousel. With this addon that has a lot of features you can choose the way you will show your post with 12 post Grid available, 9 effects for the inline popup, fully customizable, you can choose the background color, number of columns layout, multi taxonomies, and more.
Woocommerce Grid with Carousel. This addon includes more than 60 animation post effects, a quick view, with a SEO friendly-code and custom columns layout.
Search Social Stream with Box Layout. This lends you show social data in 3 style pop up feed layout and accept Facebook, Twitter, YouTube, Google Plus and Vimeo Feed. You can customize the background color and hover background color.
Pricing Table or Compare table. It works with1 to 4 columns responsive layout that show among 4 standers Price Tables or a Subscription Plan table.
One of the most popular of these addons is Instagram Gallery with Carousel. This addons is special for show Instagram feed in your web in a Carousel or Gallery, you can also show users, location or popular Instagram feed.
This plugin contains many more addons that will complement each element of your website, it's just a matter of exploring its extensive content.
Advantages of WPBakery Page Builder Addons Bundle
Create a perfect website with all the material offered by this plugin, surely that tool that is so much in this plugin.
You won't have to download different plugins since with this one you can have many design options in your WordPress.
Find the most original Google icons and fonts thanks to its extensive library where it hosts varied content and is always being updated.
Download WPBakery Page Builder Addons Bundle
You can quickly download this complete plugin for WPBakery Page Builder from this website so that in just seconds you can start building your dream page.
Take advantage of all the elements that you can find in this plugin and start enriching all the content of your website to increase your visits and conversions.