Table Rate Shipping is a plugin widely used in WooCommerce stores to super efficiently manage everything related to the shipping of products and place their conditions according to the needs of each business.
Do not hesitate to download this plugin if you are managing a WooCommerce store that wants to expand its business and offer an excellent shipping service that customers can trust and be motivated to continue using your services.
How Table Rate Shipping for WooCommerce works
It is important to know that this plugin is to be specially used in WordPress that makes use of WooCommerce to sell physical products that require a shipping service to different parts, either locally or outside the country.
If you want to start giving a professional air to your page it is best to start automating and offering this type of service and that these are customizable and different so that customers can choose between different shipping options according to their needs.
By having full control over the shipping in your store you can set up rules and conditions to determine price and types of shippings you can offer, you can even consider making special offers and promotions.
If your WooCommerce store is a market place with multi vendors, then this plugin will be an excellent tool since having different vendors has different needs between them so it is necessary to know how to manage it.
Table Rate Shipping features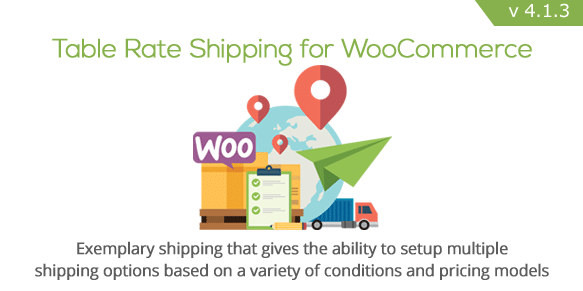 The main feature of this plugin is that it works as an extension of WooCommerce's default shipping options, so it gives you the tools to customize each of your product shipping.
You modify and create the conditions you want to charge to give the final price of your shipping, you have several types of table rate calculation, per order, per item, per line, or calculated per class you choose the conditions to create your best strategy.
You can define multiple shipping rates according to the geographic location the customer is ordering from, if you are starting to go beyond the local sale then it is best to start doing it safely with this plugin.
You can offer different shipping rates according to the number of products the customer has in his shopping cart or according to the Number of items by class and Price, this way you can consolidate a marketing strategy in which you include shipping as part of the offer.
It has been shown that most customers choose to make their purchase in a specific site according to the type of shipping offered by the page.
As this gives information of the seriousness and confidence that shows the website and how committed it is to sales, for them it is best to help you with Table Rate Shipping.
Advantages of Table Rate Shipping
– The shipping of your store is a very important process that can define the success or no of your sales, so it is best to ensure a good operation with a good plugin that allows you to manage the shipments.
– It has a large number of options and is very easy to configure, it will make clear to you the shipping methods that exist and how you can quickly make them flexible from the editor.
Download Table Rate Shipping
The download of this plugin can be done from our website, remember that you must have a shop at WooComerce to use it.
It is a friendly design plugin with a very intuitive interface that installs very quickly in your WooCommerce store.
It works very well with other plugins and does not interact with the performance or loading of your WordPress page.