Description
When working, order is one of the most important factors, in the world of the web where we are constantly in contact with other people in a virtual way it is important to make the message clear, concise and orderly.
Posts Table Pro is what will make the work on the web much easier both for you and for the people who visit your website giving the feeling of order and quality.
What is Posts Table Pro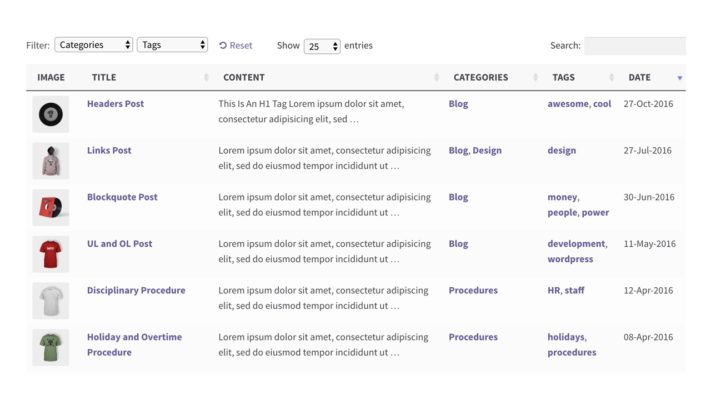 Posts Table Pro is an advanced wordpress add-on, Posts Table Pro, lists records beyond your website in a sortable, searchable table that includes filters.
It has dozens of uses such as the WordPress file library, the newsletter archive, the content website desktop, and the member directory. The add-on comes with over 50 features.
How Posts Table Pro works
You can use Posts Table Pro to display your content in search and sort tables. This has a wide variety of use cases, from a simple archive of your posts, to previews of your content, to sorting by author, tags, date, and more.
To list your blog posts in a table, simply enter the short code [posts, data, table] into any WordPress page, post, or text widget. The easiest way to set up your columns and other options is on the Plugin's configuration page under Settings > Input Table with Search and Sort. These global settings will affect all the message tables on your WordPress site.
You can also add options directly to the short code. This allows you to configure each table individually, for example, to display different columns in each table, or to list entries from specific categories.
Posts Table Pro features
– Create sortable and filterable message tables
– Choose one or all of the following columns: message ID, title, content, categories, labels, author or date.
– Content optimized using pagination.
– 100% response to different screen sizes.
– Displays WordPress blog posts in a simple HTML table.
– WPML compatible for international translations
– Posts Table Pro – our premium version adds much more functionality:
– View free and professional comparison table
– Display posts, pages or any type of custom post (e.g. documents, audio/music, courses, products, personnel and member directories, publications, articles, books, etc.).
– Add additional columns: image, statement, status, or any custom field or taxonomy
– Support for integrating WordPress media, including audio and video galleries or media playlists.
– Display of highlighted images with lightboxes.
– Drop-down filters for taxonomies, categories, and tags
– Select publications by custom field, term, date, ID, and more
– Advanced Custom Fields support.
– Enables AJAX to reduce server load.
– 100% response, with options to control behavior on different screen sizes and devices.
Advantages of Posts Table Pro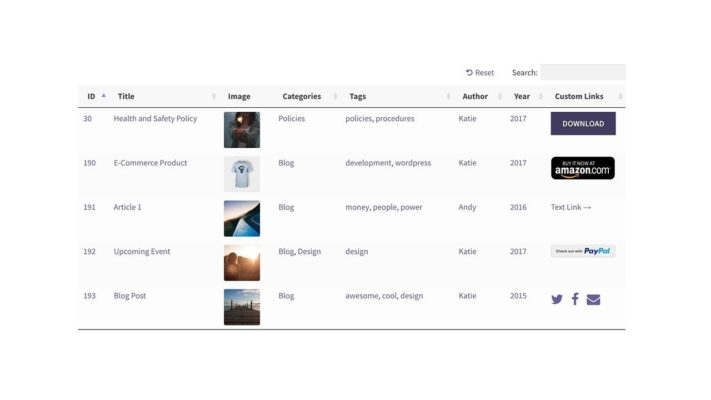 – CUSTOM PUBLICATION TYPE SUPPORT
– CUSTOM FIELDS AND TAXONOMIES
– ADVANCED SUPPORT FOR CUSTOM FIELDS
– OUTSTANDING IMAGES
– MEDIA FILES
– EASY SORTING
Download Posts Table Pro
Posts Table Pro is a WordPress table plugin that helps site owners organize WordPress messages into sortable and filterable tables, making it easy for their audience to find the content they need.
Considering how good it would be to have this tool you should download Posts Table Pro, since it would help you a lot with the image and organization of your website and business.