Description
Keeping a website and many social networks active together is often a bit confusing, however, there are things that can help us carry out all these tasks without any problems making the whole process much easier in every way.
 PixelYourSite Pro – Facebook pixel WordPress Plugin is an ideal wordpress plugin for all those business owners who want to have a good guide and company throughout this process, managing websites, social networks and so on in an optimal and safe way.
Features of PixelYourSite Pro – Facebook pixel WordPress Plugin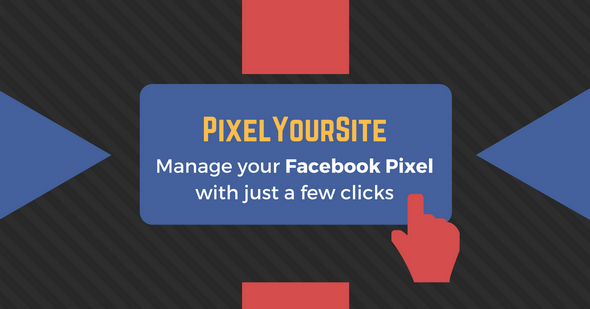 – Google Analytics
– The Google Ads Tag
– The Pinterest label
– The Microsoft label (Bing)
– Each action will be tracked and sent to Facebook, Google Analytics or Pinterest. You can compare results across multiple platforms, making sure you really understand the actions and intentions of your users.
– Track any click
– Track embedded video views from YouTube or Vimeo
– Forms tracking
– Comment tracking
– Search tracking
– AdSense click tracking
– User Registration Tracking
– Download tracking
– Fire your own events in key actions
– Fire events on page visits
– Fire events in a few clicks
– Fire events on the move
– Fire events when passing the mouse
– Automatic integration of WooCommerce and EDD
– Track conversions and every action in your online store
Advantages of PixelYourSite Pro – Facebook pixel WordPress Plugin
– Track every key interaction, such as page views, clicks, video views, downloads, forms, comments or user registrations.
– Enable custom Google events.
– Custom dimensions.
– Enhanced e-commerce settings for WooCommerce and Easy Digital Downloads.
– Run experiments with Google Optimize.
– Insert Google Ads tag with one click
– Integrate the Pinterest label with our free add-on
– Prepare your website for the Pinterest ads.
– Integrate Microsoft's UET tag (Bing) with our paid add-on
– Install the Microsoft UET tag (Bing) with one click.
– Automatic WooCommerce and easy Digital Downloads integrations
How PixelYourSite Pro works – Facebook pixel WordPress Plugin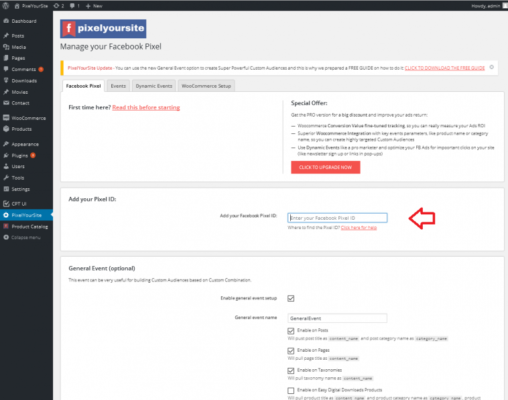 – every e-commerce related event is automatically triggered. The conversion value is tracked for each event. All events are ready for Dynamic Product Announcements (content ids and content type parameters always present).
– The plugin will automatically trigger Global Events and send them to all active pixels. It will help you track visitor activity, create custom Facebook audiences or custom conversions, Google targets, Google audiences and Pinterest audiences.
– You can use the Facebook Plugin for WooCommerce together with PixelYourSite. This will allow you to benefit from all of our advanced pixel features and still have a Facebook Page store.
– When Facebook for WooCommerce is detected, the plugin will offer you the option to use its identification logic for all WooCommerce specific events. This will ensure product matching between your site and your Product Catalog.
– The EDD integration works just like the WooCommerce integration, with full pixel support for dynamic product ads on Facebook, enhanced e-commerce from Google Analytics and e-commerce events from Pinterest Tag.
Download PixelYourSite Pro – Facebook pixel WordPress Plugin
PixelYourSite Pro – Facebook pixel WordPress Plugin this is the best complement to make your work much more optimal wherever you are, so you can download PixelYourSite Pro – Facebook pixel WordPress Plugin.