Dynamic Content is one of the best plugins you can find to enrich the content of your WordPress page. Thanks to the variety of tools it gives you to present the information on your page, it becomes very attractive and easy to read.
If you have a website where your main objective is the content and you are always looking for ways to optimize it, then you should try Dynamic Content for Elementor which will make your website look Smart and visual at the same time.
How Dynamic Content for Elementor works

If you use the Elementor plugin as your main website builder, then you certainly don't want to miss the opportunity to complement it with Dynamic Content, as it is one of the main plugins for building advanced sites.
This plugin is very complete and is integrated with the best widgets and extensions for designed with the express purpose of creating content with amazing features.
You can access quick and easy to all your Templates and page Elements in a click, in your frontend you will be able to access a wide tool library to build the best designs and transitions.
If you are a designer who works with different pages, then you will appreciate the possibility that Dynamic Content for Elementor gives you to copy and paste the settings that you have liked from a page you have previously built, no matter if they are from different domains.
Features of Dynamic Content for Elementor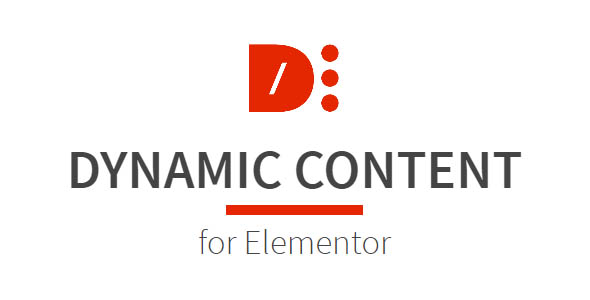 This precious plug-in for Elementor has more than 58 widgets that are very varied among themselves and that will allow you to perform different actions.
You can make smooth transitions between all pages of your site and choose through the variety of animations that are in its repertoire.
Use different actions for browsing your site, such as the Tracker header in which it slides out of view when scrolling down and slides back in when scrolling up.
You can send emails with the layout easily created in the Elementor templates and Display an original message full of color and contents.
You can export data received from forms to any external services or save in DB all data received from forms as Post, Term or User.
The editor panel is very easy to use and works according to your needs. Just drag and drop the action you want to see how it is applied to your content.
You can see a preview to observe how your post is being formed in a direct way so you can modify all you want and add icons or animations as you wish.
Advantages of Dynamic Content for Elementor
Dynamic content is noticed in contrast with a static one, the dynamic one has wider, colorful and animated images and the reading of its content is full of animations and nice transitions, with this plugin you can achieve all that and more.
By installing Dynamic Content for Elementor you will be able to enrich your post in a very original way, this will bring you more public and will make those who visit you stay in search of more interesting content.
The control panel of this plugin is very easy to use and even fun since it allows you to test all the widgets when you have them at your fingertips and this way you can test what goes best with your content.
Download of Dynamic Content for Elementor
If you are using Elementor then you cannot stop installing this plugin, download it from our website and start using it right away.
You will see that you do not need to be an expert in programming to have a super attractive website.
You can customize your page as much as you want and copy other features you have achieved with your plugin.