Blog Designer PRO is one of the most popular plugins for customizing your WordPress page with the best tools and helps you to beautify your blog page and give a new look to every element on your page.
If you're looking to refresh your page with a clean, attractive design, then choose this Plugin because it provides you with a variety of blog templates to set up your blog page for any WordPress website in an easy way to work and very easy to manage.
How Blog Designer PRO works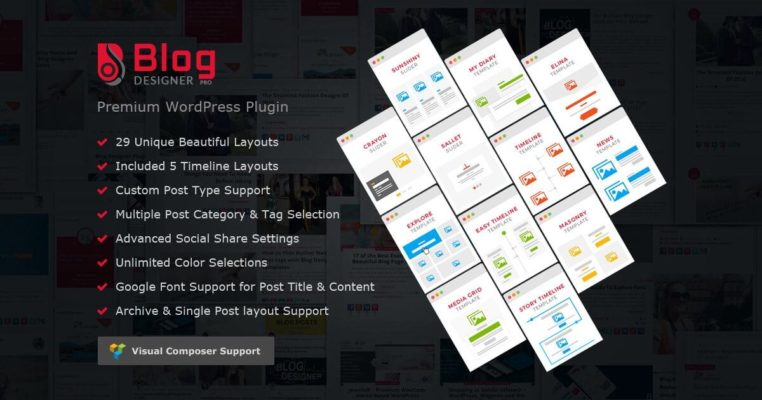 This is one of the most complete plugins, like all those created by Evanto Elite, which in its latest version has 50 unique layouts with which you will have a blog and very original pages to express yourself.
This plugin also comes with 6 timeline Layouts and multiple Post Category and tag selection so that you can complement all your actions on your website and give your users better browsing experience.
Blog Designer PRO is always being updated so your page will be using modern designs that include advanced Social Share settings so your visitors can easily share the content they like the most.
Have control over every post you make and make original publications that change their design according to the theme you deal with or the tags and categories you work with the easy editor you have.
Features of Blog Designer PRO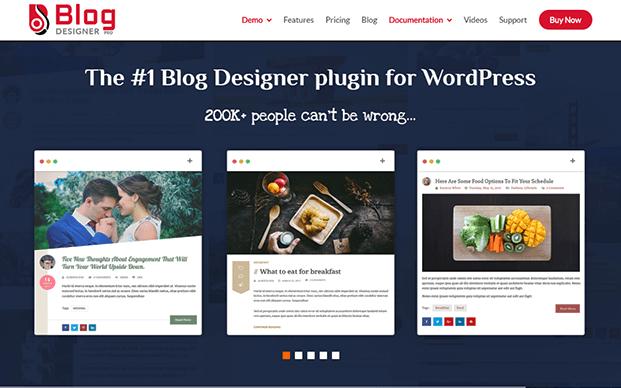 All the tools offered by this plugin are compatible with WooCommerce, so it is perfect for designing your store with original images and elements that will always attract the attention of visitors.
The Full-width Layouts tool is more than perfect for bloggers who are involved in tutorials, recipes or reviews because with it you can Showcase your blogs with big size images and a large amount of content.
If you want to give a serious or professional look like a magazine, you have the option to choose from more than 10 grid Layouts that lend you give to your page a visually rich landing page that allows posts to be browsed easily, and your photos to take center stage to your visitors.
If you want to display a project or a specific event as a timeline you can do it with a creative and easy to customize timeline template including horizontal timelines, vertical timelines.
You can display vertical featured image posts in multiple columns with masonry blog layout, no matter even if you have variation in image heights, or show your content in slider formats.
You can choose among more than 800 Google fonts that are available in the font library selection to make your own original design.
This plugin has Taxonomy filtration options to filter the posts based on category, tags and is developed and strongly tested for cross-browser compatibility. Hence, all the blog templates are easily compatible across Firefox, Safari, Chrome, etc.
Advantages of Blog Designer PRO
This plugin is fully responsive and will look attractive on any device. Moreover, you'll get total control of every detail in your posts.
By making your site more attractive, visitors will want to explore it longer and increase your chances of conversions and traffic.
It is very easy to use and its editor is very friendly, with a few clicks you will have in your hands a great tool for design.
Download Designer PRO Blog
Get one of the best plugins for your web design and start building your WordPress with templates that express all your ideas, just download Blog Designer PRO from our website and install it.
It is a very complete plugin that has been downloaded by more than 300k people who use WordPress, especially WooCommerce or bloggers and have improved the attractiveness of their website.