WPNotif is one of the best WordPress plugins that allow you to send notifications using SMS or WhatsApp to your customers from your website. It helps you to have an organization of your orders, their status and changes, from one place.
If you have a WooCommerce store or a WordPress service that handles orders, requests, appointments or constant changes of suppliers, then you need a notification system that can focus everything in one place and is easy to use, and for them is WPNotif.
How WPNotif works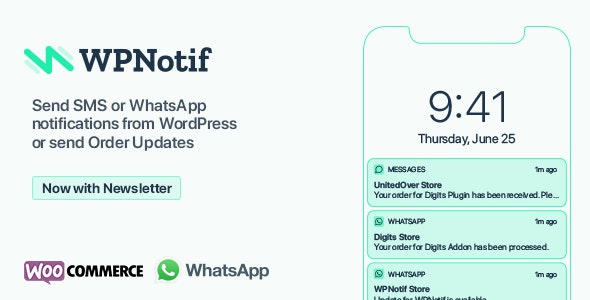 With this plugin, you can set up automatic notification triggers for your customers whenever they create a new order or whenever the status of that order is changed, other persons like store owners or editors can also set up messages or WhatsApp notifications.
You can also set up different gateways for different countries which can help you in reducing your SMS cost and at the same time increase deliverability, You have the right to choose the cheapest gateway you want or use a combination of those.
WPNotif is installed very quickly and with a simple configuration you can start receiving and sending notifications, regardless of the current SMS plan you have to send messages or doing it from the WhatsApp Business Message.
WPNotif Features
It doesn't matter where your customers come from and where in the world they are or even if they speak other languages as this complete plugin has a Multi-Lingual SMS template where you can set up SMS in multiple languages.
It has a Smart country code detection that works to find a country code and put it in place automatically, so it's perfect to use no matter where your customers are communicating from.
This plugin has more than 80 ready to use placeholders, and you have the option to create your own placeholder, and is GDRP compatible, just ask your customers if they want to receive a notification on SMS or WhatsApp.
You can help your organization with the Schedule message Newsletter system where you can decide to run SMS or WhatsApp Newsletter regarding your upcoming sale, new post, offers or what you want. Send notification to your users every time you post on your website.
Other features
Multisite Support
20+ SMS Integrated Gateways
Quick Send SMS
Send SMS from Order Page
Translation Ready
Full WooCommerce Support
Automatic WooCommerce Order Status Update Notification
Manually trigger order SMS status
Multi Country Support
Advantages of WPNotif
By installing this plugin, you can be confident that your notification service will be optimized as WPNotif allows you to organize and expand the way you send SMS and WhatsApp notifications to your customers.
Organize your newsletter to send notifications to your customers every time they post on your website, this will increase your traffic and conversions since your customers will be using your WordPress page.
It is ideal for use in conjunction with your WooCommerce store as it notifies you and your customers of orders and changes to products and services.
It offers optimized customer service thanks to this new service with which you can improve communication between your customers and your business, optimizing your business.
Download WPNotif
If you want to improve your relationship with your clients and make it more personalized, regardless of the language barrier or distance, then you should work with WPNotif, one of the best WordPress notification plugins, which you can download directly from our website.
Its installation is very simple and after a few minutes you can start the configuration to offer immediately the best notification service for your clients, colleagues and your business.