WordPress Admin Theme of WPShapere is a plugin that allows full customization and management of your admin theme. With this plugin, you will have full control over the look of the WordPress admin.
If you want to offer your clients a completely new admin dashboard that includes even your brand or business name, then you should download this plugin for your WordPress that will help you show a clean and organized dashboard.
How WordPress Admin Theme works – WPShapere
When building your website or interacting with other users and clients, you will probably have to allow others access to your WordPress Dashboard, so they can work directly from your website.
If you don't want to display all the widgets and plugins on your site or you want everything to appear neater and cleaner without having to delete them so that you can continue to view them, then you can use WordPress Admin Theme to edit everything that will be displayed.
You can also use this plugin to allow third parties to customize your admin theme with their own style, this will give more appeal and productivity.
WordPress Admin Theme – WPShapere Features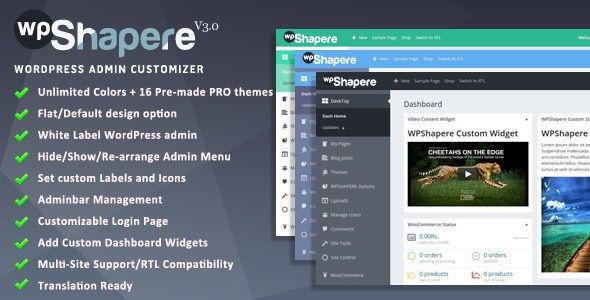 This plugin has more than 16 pre-made Pro themes that you can customize with a variety of colors to go with your brand's style or the style your guests would like to achieve on your site.
It gives ranks to specific users so that through the plugin they can see different content depending on the permissions you provide.
You can import and export your favorite settings to do different jobs between clients more quickly and easily.
Customize the list of widgets according to your needs and comfort, hide or edit the items according to who you want to show them to or how they need to be used.
The best thing about this plugin is that it works under the principle of "White Label" which will allow you to place your own logo, so that it works as a program of your own company, in any moment will appear a watermark of the product.
It is an easy to install plugin that you can use immediately without the need to know about programming, besides, it will not make your page load slowly and it optimizes all the customization of your Dashboard.
Advantages of WordPress Admin Theme – WPShapere
This plugin allows you full control of your admin theme's features, remove, customize, or hide what you want from the control panel and decide what you want to show your customers.
The best thing is that your customers can also make the customization they want, choosing the type of menu and icons they will use. Custom logo, adminbar, widgets, footer, and more.
With this single Plugin, you can customize your WordPress Login Page without the need for other Plugins, and it allows you to remove the WordPress logo to place your brand logo very easily and without complex processes.
The work for designers and developers will be much faster and easier since this Plugin allows you to export and import the settings achieved between different pages in a short time.
Give the best of the impressions with an administrator that always looks neat and at the same time works optimally and gives a professional face to your visitor thanks to the order and control that this plugin allows you to have.
Download WordPress Admin Theme – WPShapere
You can download one of the best plugins to manage your WordPress Dashboard directly from our website and very quickly and easily.
This plugin is compatible with the most popular builders and does not interact with other widgets or plugins from other programs, making it very simple and unproblematic to use.