Woo Import Export is one of the most used plugins to make import and export of all your site data from WooCommerce in a quick and easy way. It accepts multiple file-formats, import, or export in just one click.
This plugin is specially for use in WooCommerce stores that normally have a lot of user, order and product category data, so if you want to move to other sites then Woo Import Export is the plugin to help you.
How Woo Import Export works
If the moment when you need to move your database and information from your website comes, surely you have noticed that it is not such a simple process and that it requires high knowledge in programming so as not to risk the integrity of the website.
However, with the use of this plugin this change, since it will allow you to perform the process of exporting your site data into any of your site, all type of your WooCommerce Store Products, Orders, Product Categories, Coupons, Comments, and Users import/export in just one click.
There can be many reasons why you decide to import/export your data, you may want to backup your content or move from the hosting you are into a better one if it is a WooCommerce store what you need to move the data will be considerable.
It would be about product data, offers, orders, publications, stock, users and much more information, so it is important to have a good plugin that can do this task with simple and fast processes, and that is what Woo Import Export offers.
Woo Import Export features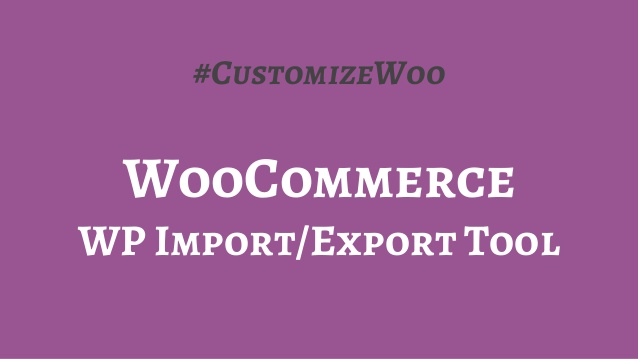 With this plugin you can have total control over the information you want to import or export because this plugin supports Pause and Resume with background import & export, something very useful because it will not affect the performance of your page.
At any moment you can stop any import or export processing without interrupting or damaging the files that the program is manipulating, also you can make multiple processes of import or export at the same time because this plugin works in the background.
For better control and order of your files this plugin has filter available for filtering your uploaded file data and you can be able to filter any data when you export products from your store.
The control panel from where you manage everything is easy to use, for export, you can rearrange and edit fields in just one click, for import, drag and drop field mapping facility available.
This plugin allows you to make a Schedule where you can program automatic background import and export, this way you will have total control in your processes.
Advantages of Woo Import Export
By installing this plugin, you can control the way your WooCommerce store import and export is done under a clear and easy process, you will not need to know about programming or codes.
You have many tools among which are more than 15 addons, ACF Pro compatibility, WPML, WooCommerce, and more. It also accepts multiple file formats such as csv, xls, xlsx, json, txt, ods and xml.
You can be confident in handling your files without worrying about any process being stopped or any file being corrupted, regardless of whether you are a coding expert or not.
Download Woo Import Export
With this plugin you will have a great ally to manage your WooCommerce Store data, you can download it directly from our site and make an installation that will not last more than a minute.
Move your data between multiple sites safely by installing Woo Import Export and have full control over your files and their processes.