Ultimate WP GDPR is a plugin that allows you to optimize your website to comply with all regulations of data protection law for all 28 EU countries and The General Data Protection Regulation (GDPR) law.
If your website goes beyond the local audience and you want it to be targeted at a European audience then you must comply with the standards of The General Data Protection Regulation with which you must take special care when requesting and handling your users' data.
How Ultimate WP GDPR Compliance Toolkit works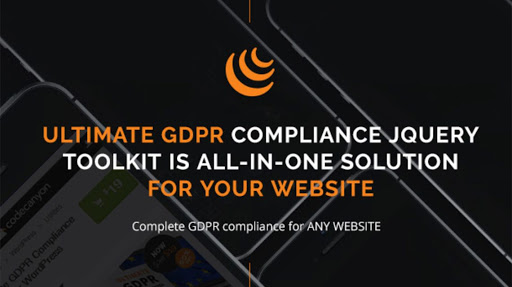 This plugin helps you prepare your site to receive your European visitors, so that you do not risk a violation of this law or the penalties that can arise from its breach.
Ultimate WP GDPR Compliance Toolkit has compiled in this single plugin the necessary settings and translation of this law, plus it covers all aspects of the regulations for you with just a few clicks.
Ensure the protection of your customers' data no matter what kind of website you work with or what theme you are working on, WP GDPR Compliance Toolkit is compatible with any WordPress theme and lives well with other plugins.
With the simple installation of this plugin you will have done everything necessary to adapt your website and comply with all the rules of the law.
WP GDPR Compliance Toolkit features
Ultimate GDPR Compliance Toolkit for WordPress is designed specifically to be compatible with a range of popular themes and have a variety of super attractive cookie skins to create customizable boxes for Cookie Consent.
With the CookieScanner option, this plugin can study each of the cookies requested by other plugins installed on your website to detect cookie types, expiration time, purposes, whether it is a session or permanent, among other features.
This scan is of great help since many times the creator of the web does not have knowledge of the type of cookies that its web requests, nevertheless, this program will be able to know it with a few clicks.
This scan can be programmed to be done automatically on a weekly or monthly basis, since your website is constantly being modified, this is very helpful and avoids the risk of breaking the law.
With its Geolocation service according to the IPs from which users are entering you can configure the options to hide the plugin from users outside of the European Union.
Other features
Third-party cookies support – our Service Manager will block any cookies you need
Advanced cookies management panel – take control of your cookies straight from your dashboard
New language versions
Enhanced integration with Google Analytics
Option to display the cookies consent box in the top panel.
Advantages of the WP GDPR Compliance Toolkit
Save a lot of time in knowing the GDPR law and continue to reach the European public without worries and with the total confidence that this plugin will optimize your site without running the risk of violating the law and protecting the information and data of your users.
You will give them a sense of professionalism and security by offering your audience the option of protecting their data and activity on your website.
It allows you to have full control over the cookies of your other plugins and automatically configure your site to offer the necessary permissions and options to users.
Download WP GDPR Compliance Toolkit
Reach your European audience in a professional and legal way with this plugin, download it directly from our website and start using it after a simple configuration.
Make your website totally legal and start taking your business to other countries without any worries and with total confidence.