Description
With today's technology we currently have the possibility of having locations or be closer to certain things like the facility that gives Store Locator (Google Maps) For wordpress a wordpress plug-in that facilitates the location and search of any store for users who require this.
What is Store Locator (Google Maps) For wordpress
The WordPress Multi-Location and Store Locator plug-in from Google Maps allows users to manage locations and supports a store locator search engine using Google Maps.
The administrator can include a location description, zip search, custom markers, tooltip support, and images for each individual location.
The Google Maps Multi-location Plug-in allows each location to have its own individual page with fully detailed information and images. All markers are fully customizable, and maps can be easily embedded into all pages or publications using simple short code.
Advantages of Store Locator (Google Maps) For wordpress
5 beautiful themes for frontend.
Multiple designs with list and accordion option.
Accordion template with hierarchy of countries, states, cities and stores.
Color palette for color selection of the Google Maps plug-in user interface
Multiple beautiful information windows.
Additional template for offer websites to show your interesting offers on Maps.
Additional template for real estate websites to show your properties and classify them for sale, rent and highlights.
Easily customize the content of your information window, which is a very unique feature.
Easily customize your store listings by simply adding a few keywords.
Store locator administration panel with all your bookmarks, stores, categories and search statistics.
Analysis bar chart to show users' searches in which location they have searched the most and which store is seen the most.
Analysis bar chart to show searches, main stores and main locations.
Time selection for each day for each location
Duplicate any store with one click
Add markers with each category, switch between category markers and default markers.
2 Quick Location Dialog Box for Geolocation.
The second Requested Location dialog box prompts the user to enter their Default Location in case the site is not using SSL.
Assign multiple categories to a single store.
All ASL settings can be overridden by short code attributes.
Add the minimum and maximum zoom level for your Google maps.
Get location coordinates (Lat / Lng) while typing the store address.
Store Locator (Google Maps) For wordpress features
Manage bookmark icons with names (UPDATE, ADD and DELETE).
Set the zoom level of the bookmark that was clicked.
Manage category icons with names (UPDATE, ADD, and DELETE).
Import / Export Store Excel sheet with all columns.
Delete all stores with one click.
Choose a type of map from Google Hybrid, Roadmap, Satellite or Terrain.
Location request displays the dialog to confirm that you share the current location.
Show distance to each store from the current location.
Set your map's default zoom.
Load in linked search Screen markers only.
Custom filter option.
Disable scroll wheel.
Display additional store information.
Enable / Disable advanced filter.
Assign bookmark to each category and enable category bookmarks.
Draw shapes / circles around your best locations.
Change placeholder text for your search field.
Show category icons instead of bookmark icons.
Enable / disable distance slider.
Set the default Lat / Lng of your map.
Change the title text of the header.
Change the font color for the default template.
Download Store Locator (Google Maps) For wordpress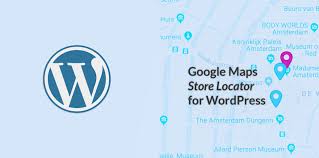 There are many features and advantages that this add-on offers you to make your location website much more interesting and eye-catching. Whenever you want you can download
Store Locator (Google Maps) For wordpress.