If you don't know about web design, now you don't have to be a scholar on the subject, but with the necessary tools you can make pages and design as if you were an expert and in time, become one.
Oxygen 2.0 The visual website builder is a wordpress add-on that will help you to know and make all the designs in the creation of web pages, something very unique and special.
What is Oxygen 2.0 The visual website builder
It is one of the most complete wordpress add-ons with respect to design and creation of web pages in a creative way, besides that many people recommend it and talk about it, thanks to how fast and easy it is to use normally.
Oxygen 2.0 features The visual website builder
– A flexbox design engine: an interesting new feature that makes it easier to align elements on your pages.
This is quite big, since most of the time page creators are fussy when trying to get the perfect design for an element.
– Repeating style tasks: this is a tool that allows you to use classes when you need to repeat certain style tasks to create a consistent look on your site.
It is completely unique to Oxygen 2.0. There is nothing so advanced in competing page builders. See a demo here.
– A beautiful visual editor: the visual editor works with pre-built designs and modules to quickly add and edit content to your website.
– A header generator: These are responsive, sticky headers that are created in the Oxygen 2.0 generator. You can create multi-level headers with elements such as logos, sliders, and more.
– Templating: Most developers will enjoy the fact that you can create Oxygen templates that apply to various parts of your website. A template can be applied to your entire site or just to some areas.
Whether you are just making a header/footer or a full-page template, everything is fairly easy to navigate.
How Oxygen 2.0 works The visual website builder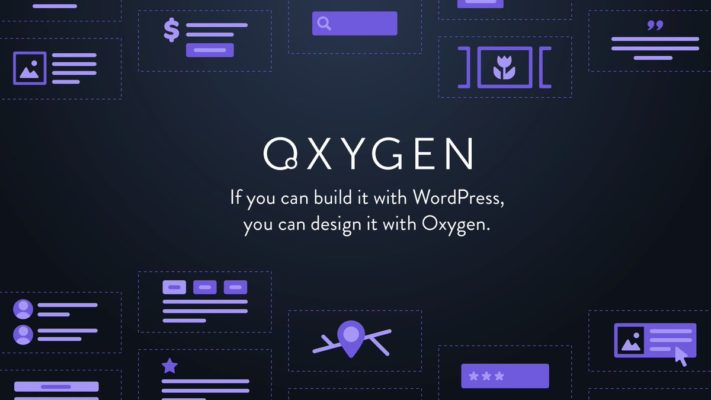 – Drag the edges of the elements to set the spacing, or drag and drop to reorder.
– Get visual control of every part of your WooCommerce store.
– Create visually customized website headers, including fixed and overlapping headers
– Edit colors in one place. Changes take effect everywhere the color was used.
– Build with fundamental HTML elements. Write PHP, CSS and JS live.
– Flexible building elements. Dynamic data with repeaters and loops. And more.
Oxygen 2.0 installs like any normal WordPress add-on. It takes a few seconds and you don't even need to go to the Themes section in the WordPress panel. After installation and activation, the Oxygen 2.0 guide asks if you want to develop a ready-made website or a blank installation.
Most people will be interested in Oxygen because of its demos and pre-made design elements, so for this review we will go to the pre-made website. However, it is nice to see that professional developers can start with a blank installation for full control.
Download Oxygen 2.0 The visual website builder
Definitely this wordpress add-on has changed the way many people see the construction of web pages, so don't wait too long for it to be your turn to make quick and easy changes by downloading Oxygen 2.0 The visual website builder.