If we put on the table the current needs of all users with internet and without internet all over the world we can come to the conclusion that really many people prefer and need everything that has to do with online classes and online courses, if you want to be part of those who undertake with the classes and online courses you need in your life Tutor LMS Pro.
What is Tutor LMS Pro
Tutor LMS Pro is a full-featured wordpress add-on for easily creating and selling online courses. All the features of this learning management system reach all the checkpoints for a complete online course marketplace.
You can create challenging and fun quizzes, interactive lessons, powerful reports and statistics, making Tutor the best free WordPress LMS add-on. Manage, administer, and monetize your education, online school, and online courses without writing a single line of code.
Tutor LMS is a completely free WordPress LMS add-on with high-quality premium add-ons you can add to further enhance the core add-on.
How Tutor LMS Pro works
Create courses with your details such as videos, attachments, excerpts, additional data, course benefit, requirement, topic, outline, announcement, and video banners in this WordPress LMS add-on.
Have lessons in progress and attach videos and other attachments to each lesson. Tutor, the WordPress Advanced LMS Add-On allows you to present courses in an intuitive user interface with all the options needed to deliver a world-class learning system.
Each student registered in your WordPress learning management system will have a front panel to view course status, progress, notifications, announcements, and anything else an administrator or course teacher sets up from the back-end.
Set up easy registration forms to approve instructors for a course with this WordPress LMS add-on. Review instructor profiles and then have customized settings for the instructor role. Select whether instructors can publish the course directly or must verify it before publishing
Features of LMS Pro Tutor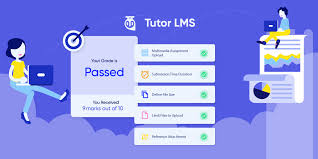 – Intuitive course creator
– Unlimited courses and lessons.
– Frontend Student Board
– Video lessons
– Multiple video sources (self-hosting, YouTube, Vimeo, embedded video)
– Teacher profiles and panels
– Lesson management
– Course requirement and instruction
– Questionnaires
– Profits and commission allocation
– Withdrawal options
– Purchase history
– Style options
– Course Widget
– Teacher Registration Form
– Course review and grading system
– Questions and answers for students with a course teacher
– Video poster (preview / advance)
– Monitoring course progress
– Course difficulty level
– Page generator support
– Gutenberg compatible
– Content Security
Advantages of LMS Pro Tutor
– Tutor's report:
Get powerful statistics for a complete analysis of which courses are performing well with students and judge the popularity of individual courses. Monitor reviews with this WordPress LMS add-on and manually change quiz grades directly from the panel.
– Tutor email:
Sending emails to students and teachers has been automated in Tutor. You can automatically send course registration, course completion, and quiz completion to students and teachers. Customize email templates easily with the WordPress LMS plug-in.
– Tutor certificates:
Offer students beautifully designed certificates for completed courses. You can upload your own certificates with this amazing add-on that comes with this WordPress LMS add-on.
– Tutor course preview:
Unlock some courses for students to try out before enrolling in a lesson. This increases conversion rates and allows targeted students to get a feel for the lessons.
Download LMS Pro Tutor
This is the best complement to carry out any online class in the most effective way, that's why you can download Tutor LMS Pro in its website.