JetBlog is a plugin that allows you to customize the content with an easy drag and drop operation, without the need to know about programming and code.
If you're looking for a way to give style to your WordPress page, whether it's a blog or an informative portal, you should discover everything JetBlog brings to you, the best plugin to customize your website and learn how to use it to boost your web and attract more audience.
How JetBlog works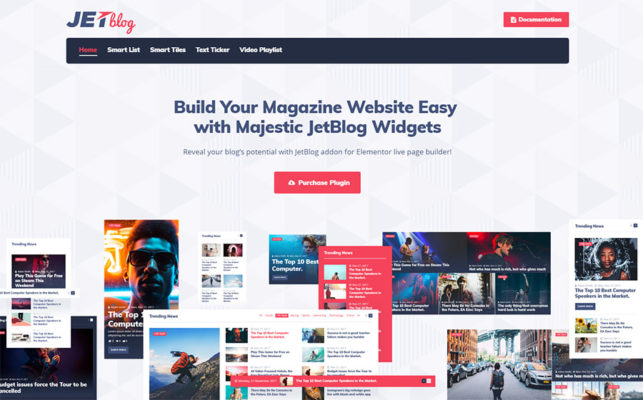 To use this simple plugin is necessary that your WordPress page works with Elementor, so you can extend the design work that brings Elementor and give the best results.
JetBlog's functions are very varied, but all of them will help you have a more ordered page and shape your content to make it more attractive and easier to read.
When you apply it to your page, you'll see how it immediately improves your engagement and increases your web traffic, since customers will want to stay and share your well-achieved content.
With its installation you can count on a variety of widgets that will complement all the modifications you want to make to your website, so no tool will be needed to change the look of your WordPress.
JetBlog Features
This plugin allows you flexible custom-built because it has several options and modules in which you can make multiple customization settings without complex processes.
It has a good number of layouts so you can select the one that best suits the style of your brand or your business. Choose the typography among a variety of fonds.
This plugin will make your pages look good on any device of any resolution as it is fully responsive, so it doesn't matter if they view your page from a cell phone, tablet or laptop, it will still show the best designs
With this plugin it's like having a complete editor with images, as you can make spectacular backgrounds with gradients and opacity to your desire as well as make it in a short time and make all the edits you want.
One of its widgets allows you to show the videos as a playlist and highlight the thumbnails with a unique and original style.
It has an incredible variety of colors to apply to your content and that it is always in harmony with the other values of your website.
Advantages of JetBlog
– Enhance the content of your website by editing your posts in a very easy and eye-catching way for the readers.
– Your posts will be displayed in an original way as easy to customize and public friendly content blocks.
– This widget is created for adding an eye-catching ticker content module to the website's page, displaying the recent and most important post titles, this way you can forget about order your posts.
– Your posts can show in form of tiles block with a neat layout which will give you an amazing style.
– The amount of styles you can achieve is variable, so no matter what kind of content you offer, this plugin will manage to adapt and give an original style with all the tools necessary to achieve it.
Download JetBlog
You can download this plugin here in our web, with the purchase you get 24/7 technical support from a professional team in case you have any inconvenience when using it.
Downloading is very simple and with a few clicks you can have it installed on your WordPress, without the need for complex codes. You only need to use Elementor to start editing your website.