Groovy Mega Menu is one of the best plugins for customizing and making mega menus in your WordPress. With its installation, you will have dozens of tools to make the best menus and organize your page to look more attractive.
If your page works with a lot of content, or its content varies between different themes, then this Plugin will be of great help to you since it has a great library, presets, and addons that you can use for your menus.
How Groovy Mega Menu works
It allows you to perform and customize the of variations headers and Highly customizable mega menu, add any widgets and shortcodes into mega menu blocks. Customize it to suit your tum ark and business style.
It is a very complete plugin and compatible with the most popular builders and most of the most used plugins in WordPress, create menu blocks with Elementor, DIVI, WPbakery or in other page builders.
In addition, it shows to be fully responsive and work well regardless of the resolution of the device, your menu will display perfectly on all screen sizes and all devices. It is fully responsive, and retina ready.
It has a large and diverse library where you will find original and unique designs, no matter what style your website has, you are sure to find one that fits your search engine perfectly.
You can create different types of a menu on your site, horizontal menu layouts, transparent menu or vertical men, and more, all without the need of coding skills to build the menu of your preference.
Groovy Mega Menu Features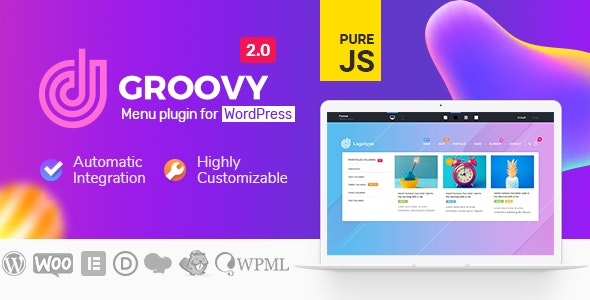 You can choose among the variety of menu header layouts, just select of a preferred type of menu and customize, add сolumns, tabs, images, icons, maps, contact forms, and all the elements you need.
It has a Standard menu, left sidebar menu, one-page menu, right icon menu, center, minimalist, sticky with topbar, mobile menu and many others for you to select the best fix in your pages.
In the horizontal menu layouts you can set and create different types of the menu on your site, and customise with colors, fonts, changes sizes, effects and use all the presets you want.
You can place your logo in any position of the menu, either to the right, left or in the middle, and choose between 7 hover styles that are suitable for your page.
With this plugin you can edit and adjust the transparency level for your menu, add borderlines, or apply different topbar to the header, place your contact info, social links, languages and much more.
You can edit and manage your menus with great ease, you just have to exploit your creativity combining more than 2000 icons, 200 settings, 18 presets, 7 hover, and 915 fonts, so your menu will be super original.
Other features
Vertical navigation
Horizontal navigation
Off canvas, Slide, Push
One page
Dropdown
Submenu
Sidebar
Sticky
Navbar
Fixed header
Ajax Cart
WooCommerce mega menu
Fullwidth mega menu
Mobile ready
Badges Icon, Free, New, Trendy
Top bar
Ajax Woo cart
Ajax Search Ready
Advantages of Groovy Mega Menu
This plugin is perfect if over time you have accumulated content of great interest and want to give it more visibility and order, thus attracting more visitors and increasing your traffic.
Your menu will look better, and you can make it a tool to attract more visitors, as you can place your logo and edit it in a striking way.
It works with most WordPress plugins and builders, so it's very safe and easy to use.
Download Groovy Mega Menu
Its download is very simple and you can do it directly from our website, do not hesitate to get this plugin if you want to make mega menus on your website.
With its download you will be able to optimize your web, you will see how your clients increase due to the attractiveness that they will perceive your web.