eForm is one of the most complete and advanced form builder plugins for WordPress, it serves both basic forms or makes quizzes, surveys, data collection, and more, is easy to use and very quick.
If you work with several websites or tend to use several forms for different purposes, then you should install eForm as it allows you to fully manage the details and elements of your forms, in a few steps you can apply them to your website.
How eForm works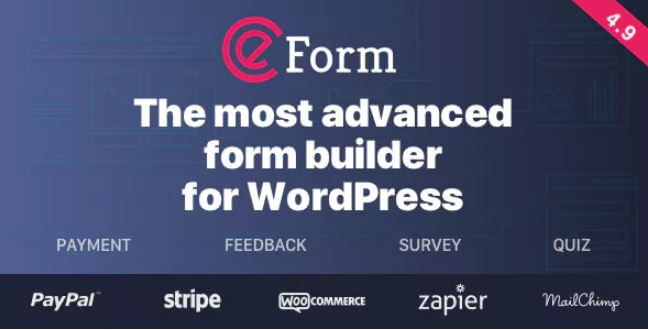 This plugin has all the tools to make it easy for you to design the forms you want to use, no matter if it's a survey or a quiz, it has the specified tools for it, so, if you usually have several with your forms, this is the perfect plugin for you.
It includes a modern payment system with which you can create a single-page checkout form for maximum conversion, it accepts payments from PayPal, Stripe, bank transfer or the payments that are included in WooCommerce.
Making forms will be much easier with the quick and easy Drag and Drop form builder, you can build unlimited forms and manage them from your admin dashboard. All submissions are stored in your eForm database, so you can view, track, analyze, and act on the data you have captured.
This form builder is perfect because it is flexible and easy to use with a single editor, which does not require knowledge of codes and responses from any device that displays them, whether it is a tablet PC or a mobile phone.
eForm Features
Forms are extremely important for your WordPress site because they are the way you have a direct link to your future customers and sometimes it is the ultimate step to having great conversions.
That's why you should pay special attention to your forms and use them as powerful tools and for that, you need to have a complete plugin that allows you to use the full potential of the forms.
With eForm you can create your own online quizzes without the need of another plugin, it has all the tools to create it, it has MCQs, text entries, sortable lists, and can automatically calculate scores and show designation based on score range.
You can restrict quiz timing or simply record the time taken by your users automatically and list best performing users on your website and create engagement.
This plugin gives you reports and statistics, it comes with built-in tools to convert your submission data into a chart, pie, line or bar so you can have details of your strategy and adjust it if necessary, it gives you the of download them for offline use.
For the forms of surveys, you can use conditional logic, dynamically alter the label of your elements based on user input, and custom redirection by redirect based on score, conditional logic or simply to a page when upon submission, you can create original forms for your users.
Advantage of eForm
This plugin has several tools with which you can give flexibility and variation to the forms that you show on your page, with a single plugin you can make several forms regardless of their purpose.
eForm includes a wide range of addons that complement the operation of your web and that you can easily manage with its Drag and Drop system and allow you to perform different actions for your designs.
Besides offering you the design of different forms it also gives you the opportunity to study your marketing strategy thanks to its reports and statistics.
Download eForm
Download this complete plugin directly from our website and start using your forms as an engagement tool.
eForm allows you to connect with your future subscribers and create loyalty thanks to the designs and different actions you can achieve with this plugin.