Description
CSS Hero PRO is a plugin that allows you to customize your WordPress Themes in an easy and faster way without the need to modify the CSS or HTML code, if you are new with WordPress this is the best plugin you can try.
This Plugin is one of the easiest to use when it comes to customizing your WordPress themes, its options are simple, and it has a very intuitive interface full of features to make your themes unique and eye-catching.
How CSS Hero PRO works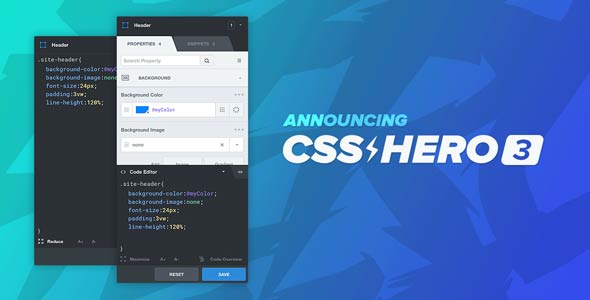 With CSS Hero PRO you can have full control over the look of your website and it's especially useful if you're a web developer and work with several sites at once, as it allows you to do a faster job with less chance of errors.
It also works great for beginners as it allows you to see the changes made as you set it up and the chance to undo the changes you didn't like at the moment. The changes that you make are saved as an additional stylesheet.
This plugin works very well with the most popular and downloaded WordPress themes so you don't have to worry about performance or load times.
If you find yourself needing to go deeper and modify performances from the code, and make use of shortcodes, CSS Hero PRO gives you the option to do it without problems.
CSS Hero PRO features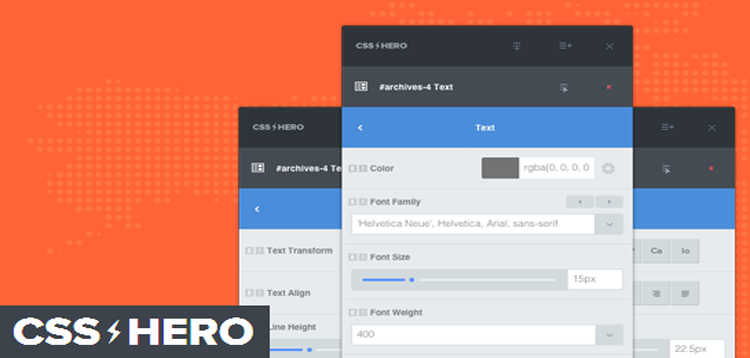 With its simple installation, you can simply choose the element of your page that you want to be modified and this plugin will give you the option to edit it and adjust it according to your style and wishes.
Create your own style using your own fonts with the collection of Google Font, change the color of your brand and apply it to your web this plugin also helps you to build a consistent color palette.
You can perform actions like building gradients, box-shadows, text-shadows in a very simple way with just a few clicks, avoiding the cumbersome process of CSS coding.
You can make device-specific edits and preview them in a click to see the compatibility of your theme before pushing it online, you can see how it will work in tablets mobile or Laptops.
You can forget of worrying about modifying any important part of the code of your theme files, this is because CSS Hero PRO does not alter physically your theme files if you shut down the plugin your site will be seen as how they were before installing CSS Hero PRO.
Advantages of CSS Hero PRO
– By installing this plugin, you can control the customization of your page and you can give it the style that you like and that goes better with your target audience.
– You will be able capable to insert animations and images that you will be able to apply to your website, in addition to the easy configuration of all these aspects.
– Because it's compatible with a wide variety of themes and the most popular WordPress plugins, it's suitable for use on sites like blogs or sales sites like WooCommerce.
– You can undo the changes that you don't like in any moment and in an easy way, the Plugin has a history of all the changes you make to your theme so you can go back to it whenever you want.
Download of CSS Hero PRO
This plugin is very easy to install and once you have it on your website you can have full control over its appearance, animate elements to highlight the theme, and much more.
You can download it directly from our website in a totally secure way and with the files intact and unmodified.
With its download, you get the latest version and have complete documentation for installing or making the settings on your website of one of the best plugins to customize the style of your WordPress.