Beaver Builder Plugin is one of the most popular plugins on the market, since it is the one that offers the most possibilities when it comes to building your website business, works with the system Drag and Drop with which you can give life to very professional pages.
If you are determined to start building your website for your business or brand and you want it to look professional and attractive for future visitors, then you should know all the tools that Beaver Builder Plugin brings to you, because it will make the construction of your website easier.
How Beaver Builder Plugin works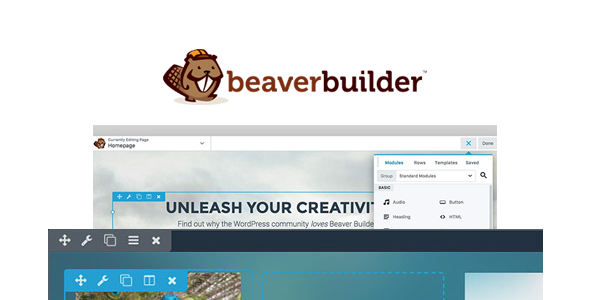 One of the reasons that makes this plugin more attractive for those who are starting to build their page is the Drag and Drop function that allows you to build great and attractive designs for the public without having to have great knowledge in code or programming.
So this plugin is perfect for those who are just starting in the digital world online, or those who do not have much budget and want to build their own website, however, it is still the perfect plugin for developers or designers, because it saves a lot of time in the construction.
This plugin is compatible with the most popular WordPress plugins and themes, so you don't have to worry about that aspect, besides it is totally responsive and mobile-friendly.
If you want to have full control over details of your website, it allows you to use shortcodes to edit details as you wish and has a wide range of widgets to work with. You can see in what are you working on because you build in real-time on the frontend of your page.
Beaver Builder Plugin Features
This plugin is very flexible and you have this special version for agency that has the option of White Label, with it you can place the logo of your company and not worry about the watermarks that may have the plugin.
If you have an agency or you are a developer, this option of Beaver Builder Plugin is the best to acquire because you can offer all the tools of this plugin as your own business, this is something of great importance that will give a plus to your business.
It has a large library of templates, no matter what the theme of the page, you're sure to find the right one, this will save you a lot of time, since you won't have to spend it on design, and if you don't like any detail it's easily customizable from its editor.
The agency version, apart from being white label, you can show your own template designs as the main ones and delete the ones that come with the plugin, and show them as you like, this way the customization of your brand is even greater.
You can also customize the Help button, fine-tune which help options are available and add links to your own help services or enable or disable the button as you need.
Place the images you want in your plugin, accept a variety of formats, and build a column-based layout, positioning text just by dragging and dropping the elements you want and have control over the details of your website.
Advantages of Beaver Builder Plugin
This version of the plugin is perfect for agencies as it allows you to have full control over the settings and what you show your clients when creating the pages.
You can make designs for Landing pages or content Pages no matter what the page is about you will always find the perfect template.
You have total control over the design and you will save a lot of time, besides offering original templates.
Download Beaver Builder Plugin
As it is a very complete plugin, it becomes almost indispensable for design agencies or developers, so you can download it directly from our website and very quickly.
It is a very flexible builder, and more than 1,000,000 businesses have used it to build their WordPress.