Description
Besides the content, the design in a web page is one of the most important things that you can have, so if you want to renew your web with more style and modern options I recommend AnyWhere Elementor Pro WordPress Plugin.
Features of AnyWhere Elementor Pro WordPress Plugin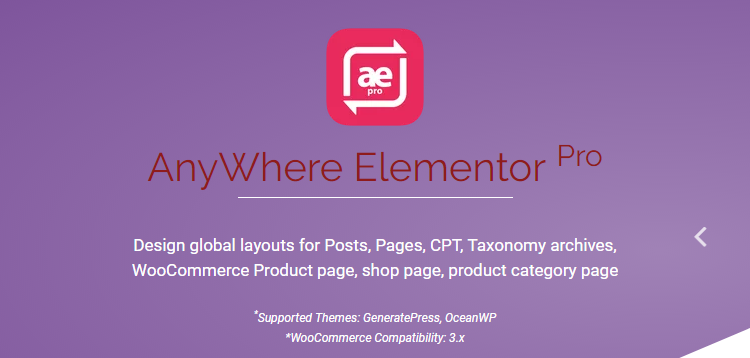 – Add more power to Elementor Page Builder
– Explore
– Cancel any section of WordPress
– With complete control over all individual components.
– Individual publications / CPT drawings
– Taxonomy files
– Publication type files
– author file
– Search results
– Date files
– 404 page
– Have complete control over the Single Product, Category Files and Store page layouts
– Individual product designs
– Product Category Archive
– Buy page design
– Dynamic Widgets
– Title of publication / archive
– Publish Content
– Publish image
– Publish blocks
– Search form
– Custom Fields
 Advantages of AnyWhere Elementor Pro WordPress Plugin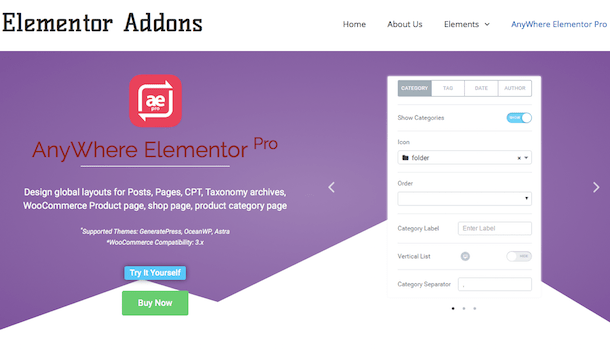 – The most versatile and flexible publishing widget to design your archive pages
– Skin Builder: ability to design your own SKINS without writing any code
– Multiple design modes: display grid, list, slider, carousel and smart grid publications
– Supports custom publication types and custom fields
– Powerful query controls
– Choose your plan
– All plans come with a 14-day refund policy: no questions asked
– All the functions of this add-on can be used with the free version of Elementor.
– Global pole designs
– Email Archiving Templates
– Category, Label Templates
– WooCommerce product and category design
– Global designs for custom job types and custom taxonomies
– Support for custom fields
– Design 404 Pages
– Design the search page layouts.
How AnyWhere Elementor Pro WordPress Plugin works
– AnyWhere Elementor Pro works with any wordpress or elementor template so on that side you have nothing to worry about.
– The add-on will still work even if your license expires. The active license is required only for product updates and support.
– If for any reason you are not fully satisfied with what you are being offered, you have the possibility to order and get a refund during the first 14 days of the product purchase.
– The refund is applicable only on new orders (not on renewals and upgrades). You will get a 50% discount on license renewals.
– Allows you to insert item pages, library templates and global templates anywhere using short codes.
– Now create global item sections. Change in one place and reflect everywhere.
– Use the short code INSERT_ELEMENTOR e.g.: [INSERT_ELEMENTOR id=xxx]
– The "xxx" parameter is the id of any message created using Elementor.
– For your convenience and separate management of Global Templates, it is also a custom message type.
Download AnyWhere Elementor Pro WordPress Plugin
As you can see this plugin is not difficult to use and has many good things that can help your website to grow in a good way, in all senses, so do not forget to download AnyWhere Elementor Pro WordPress Plugin to take advantage of your website and optimize it more and more, thanks to everything AnyWhere Elementor Pro WordPress Plugin offers you.