Ads Pro Plugin is a plugin that optimizes the experience with advertising in your WordPress page, allows you to manage everything that has to do with your advertising, and has more than 20 ways to display ads.
If you want your website to have a passive entry through the ads and handled professionally, you should not hesitate to download Ads Pro Plugin, which will help you with all its tools to manage them.
How Ads Pro Plugin works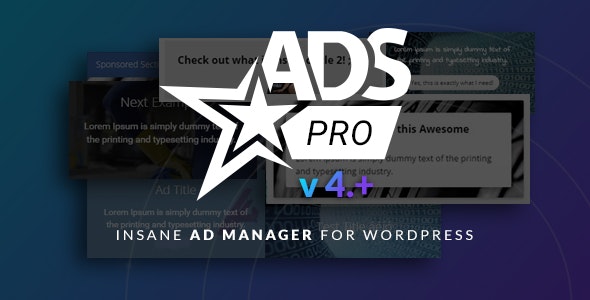 This plugin is very complete and among its tools has more than 25 ready to use ad templates, sorted in 7 categories, which you can choose and adjust according to the style of your website.
You won't need much procedure to manage your ads since it accepts a wide variety of formats and its templates are totally flexible and responsive for any device, mobile or Tablet.
This plugin is very modern, you can customize the size of the templates and allows your web visitors to manage their ads. Its panel is very intuitive and easy to use.
From the Frontend, you can choose when to start displaying the ad and you can see live how your publication will look before finishing and publish it so you can make the changes you want.
Ads Pro Plugin Features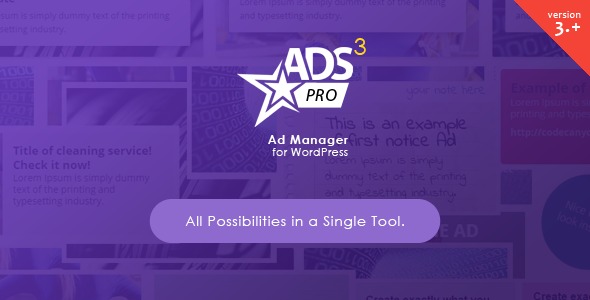 This plugin has several features that make it a management and organization tool. You can add tasks to show or hide ads and ad spaces in automatically at a specified time and date.
You can use a filter to show or hide ads by specific categories or tags. All this helps you to apply the strategies that best suit your business no matter what type of website you are running.
You can manage unlimited ad spaces and sold ads. The whole panel is very intuitive so you will save your time and customize as you want, compare ads and choose the best with higher CTR.
Depending on the device screen type this plugin has a device detection where you can show or hide specific ad. And with the Geo Target Option choose for specific Countries, Provinces, Cities, and Zip-codes.
Display your Ad in a grid, in the sidebar, corner peel, as Slider or pop-up, HTML/ JavaScript, and more than 20 ways in all your pages.
You have full control, and you can view the clicks, CTR, Views, Status, Billing Model, and more details that will help you with your strategy.
Advantages of Ads Pro Plugin
By installing this plugin, you can have control over your advertising, how it is displayed and the results it is giving, this is ideal for creating the best marketing strategies for your business.
You will be able to organize the work with your customers because it offers statistics on your page for all buyers, customers will get an email with URL to full statistics of their ads.
With just one admin panel you can manage multiple WordPress sites and work with Google AdSense.
You will have control over the ads you will display, the option to notify after payments confirm ads manually or automatically and decide where to place the ads among the paragraphs.
It's easy to work with translations and you can customize your fonts with over 650 Google Fonts
Download Ads Pro Plugin
The download is very fast and you can do it directly from our website, so you can offer an advertising service to your customers.
Ads Pro Plugin is very complete and has a panel to customize the ads, 3 billing Models 4 payment methods and much more.