Admin Menu Editor is a plugin that makes it easy for you and your clients to use your Dashboard menu, as it helps you edit it, rearrange it, display the items you want and many more options.
From the Dashboard you have access and control to all the elements of your web, that's why it's necessary to keep order there, especially if third parties are going to work on your page and enter to constantly manipulate the dashboard. This plugin will help you control and order your dashboard.
How Admin Menu Editor Pro works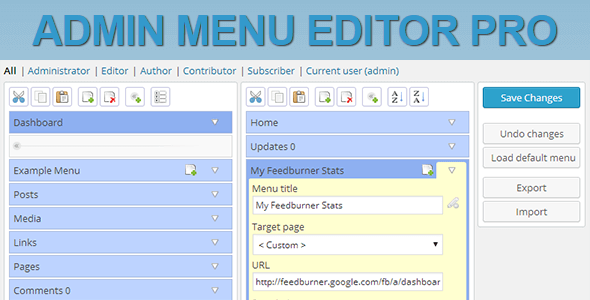 Whatever your WordPress theme is, at some point you'll need third parties to enter your dashboard to do work from there, whether they're clients, developers, or guest bloggers.
To give a more professional sense to your website, it's important to show that the main site from which you manipulate the processes of your page is clean and tidy, and with Admin Menu Editor you can manually sort what is shown there.
The interface with which it is handled is very simple to understand and you can quickly start customizing your dashboard, it works very well with other plugins and does not slow down the loading of your website.
Admin Menu Editor works from WordPress 4.1 and PHP 5.2 or greater is compatible with most popular WordPress builders.
Admin Menu Editor Pro Features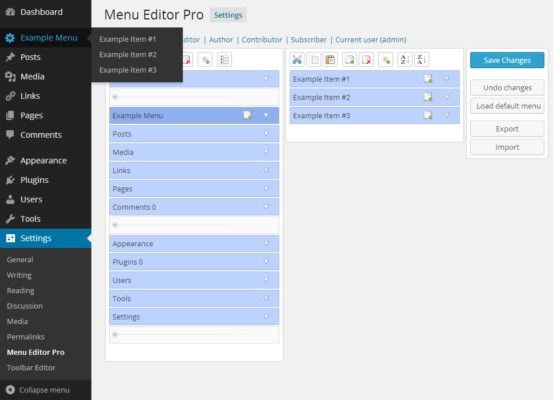 By downloading this plugin, you have access to a wide range of collection of icons, with over 600 from the Dashicons and FontAwesome icon fonts.
If there is a specific icon you want to use that is not in this collection you can upload your own PNG or GIF icons through the Media Library, or enter the icon URL manually. You can also add icons to submenu items.
Customize your menu and edit the background, text, icon and highlight colors to enhance your dashboard according to your style, you can customize each item or your entire admin menu.
All the organization of your menu is very easy to do because you do it with Drag and Drop. You can move elements and menu frequently used to the top or create submenus.
With Admin Menu Editor you can hide the menu from roles or users or give user access to a specific admin page without changing their role. Choose which items you want to show or hide from the menu items, check and uncheck as you want.
Hide individual entries on the "Plugins" page. As with menu items, you can hide them from specific roles. You can import and export your admin menu configuration to a file, and import it to another site easily with a few clicks.
It works with the White Label system with which you can customize the admin menu with your own logo and you can also customize it with your own brand colors and hide the default WordPress branding.
Advantages of Admin Menu Editor Pro
This plugin allows you to customize your Dashboard and login page as best suits your web style, so, if you want to have total control and customization over your admin theme, this is the best plugin to achieve it.
When inviting others to work on your page it is important to make a good impression, and this plugin gives you the necessary tools to edit, hide and show the elements and menus of your choice.
Have control over access to your dashboard and what you show according to the role they have and give specific permissions.
Download Admin Menu Editor Pro
With this plugin you will be able to organize your admin menu in a very easy and fast way, so you should not hesitate to download this plugin from our website, where its installation is very quick and easy.
Manually edit the controls of your admin menu and offer your visitors and customers a better service from your website.